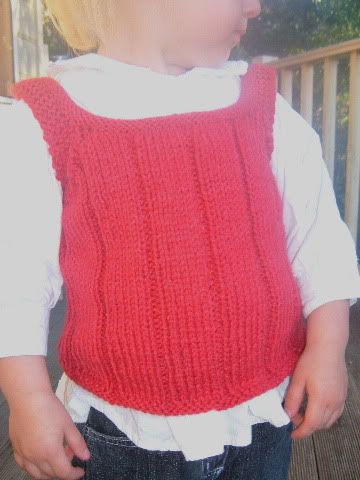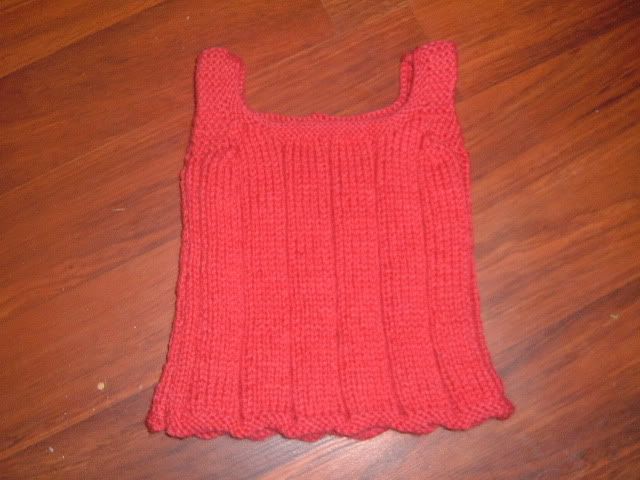 Here is a reddish/pinkish vest I made for Kimmy. It is great for over a long sleeve shirt in Winter or a short sleeve one in Apring/Autumn. The yarn is 70% wool and 30% Alpaca. It is soooooooooo soft to touch!!
Size 2 (30cm long, 25 cm wide). Fron and back are the same.
Using 4.5mm needles, cast on 56 stitches.
Purl row, Knit row, Purl row
Change to 5.5mm needles.
1st Row - P3, #K2, P6. repeat from # to end, P3.
2nd Row - K3, #P2, K6. repeat from # to end, K3.
These two rows form pattern. Work for about 20 cm - measure the length on your child to just under their armpit. Then shape armholes and neckline:
CO 2 stitches at beg of next 2 rows.
3rd row: k5, k2tog tbl, patt to last 7, k2tog, k5.
4th row: K5, p2tog, patt to last 7, p2tog tbl, k5.
Rep last 2 rows once (44 stitches).
7th row: k5, k2 tog tbl, patt6, turn.
Dec as before, at same time dec at neck adge in following 2 rows. Work one row. (8 stitches).
11th Row: K5, k3tog tbl (6 st)
12th row k2tog, k4 (5 st)
Using 4.5mm needles, work garter stitch on these 5 stitches for approx 6-7 cm. Cast off.
With right side facing, slip centre sticthes on a stitch holder, leaving 13 stitches on the left hand needle. Join in yarn and work on these 13 stitches to correspond with the other side.
For the neckband, with right side facing and using 4.5mm needles, knit up 17 stitches down left side of neck, then knit accross stitches on holder, then knit up 17 stitches on right side. Knit row, purl row, knit row (to correspond with bottom edge). Cast off fairly loosly.
To make up, simply sew together sides and straps.
If you decide to make this pattern please let me know and send me pics!!! And let me know if there are any errors... i have wirtten this out from memory after i finished and so i may have left something out! :-)
ENJOY!!